Urban Bingo iPhone App
My client – a first time entrepreneur – had a great idea for a location-based scavenger hunt game that could be pitched as a loyalty program to small businesses, a team-building activity for groups and conferences, or just a fun, asynchronous game to play amongst your friends. Though the basic concept and vision were there, he didn't quite know where to start. I refined the concept using storyboards and workflows, created a clickable prototype to define the functionality, and product managed the development cycle for our beta launch.The app launched as a massively multiplayer contest that was part of the official SXSW Interactive Conference in 2013.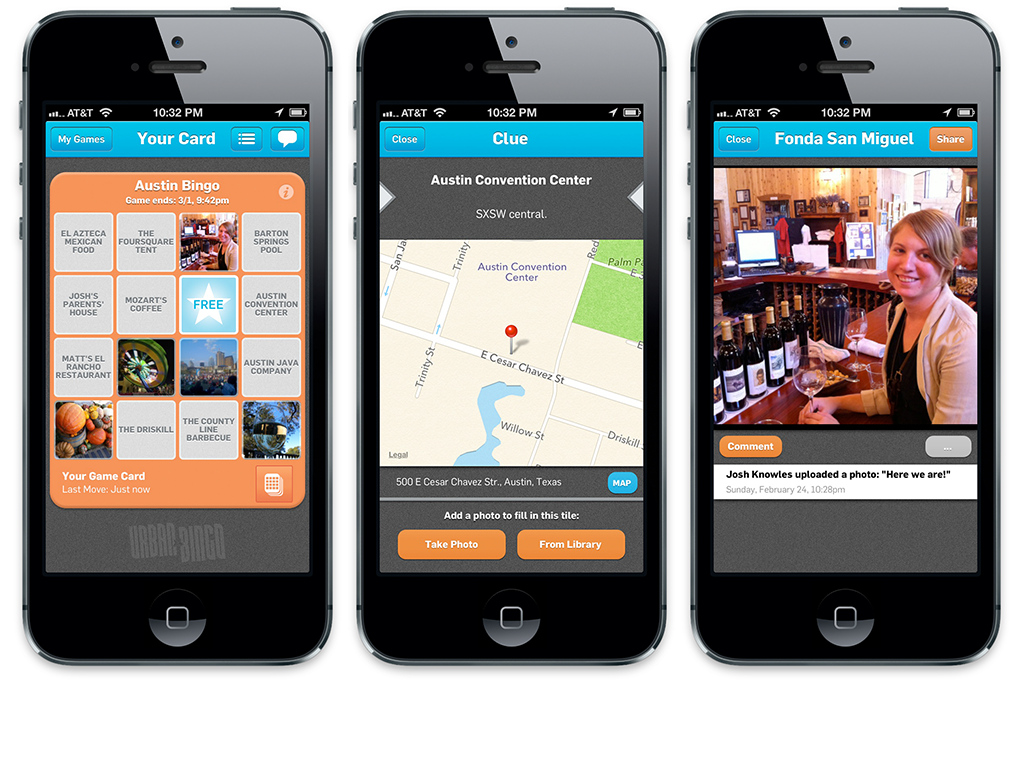 Public and Private Game Instances
Our MVP for Urban Bingo was to launch a series of location-specific games which any user could instantiate and play privately with their friends, inviting people they know via email or Facebook. However, the vision was to create a platform through which businesses and brands could create public-facing games and time-based contests which anyone could join to compete for prizes. Shortly after launching the MVP in the app store, we adapted our processes and designs to work for administratively instantiated/mediated games and launched a contest which anyone could join as part of SXSW.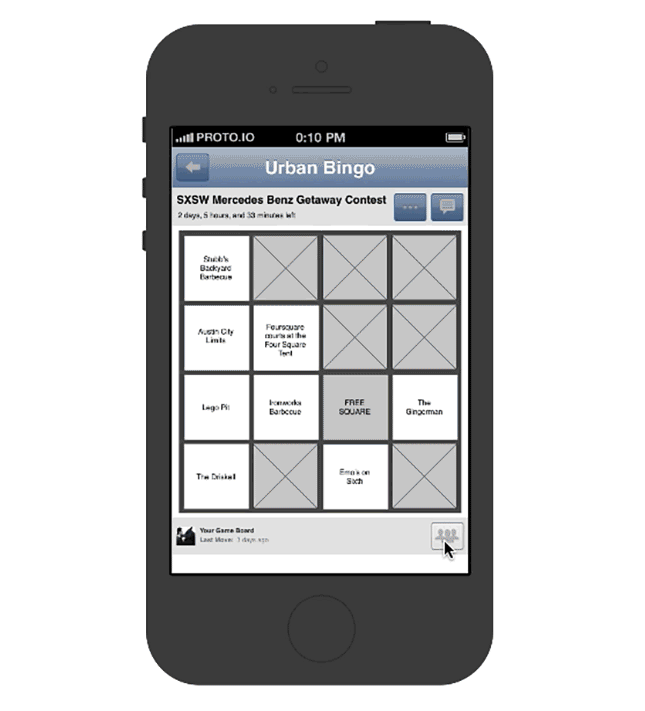 Socially-Mediated Gameplay
Knowing that we would not have the administrative bandwidth to be able to police each game, we designed a simple workflow through which the players could police the game themselves. Players can "flag" questionable photos alerting everyone in the game to the potential cheating. It's up to the players to put social pressure on the cheater to either defend their move or to take the photo down.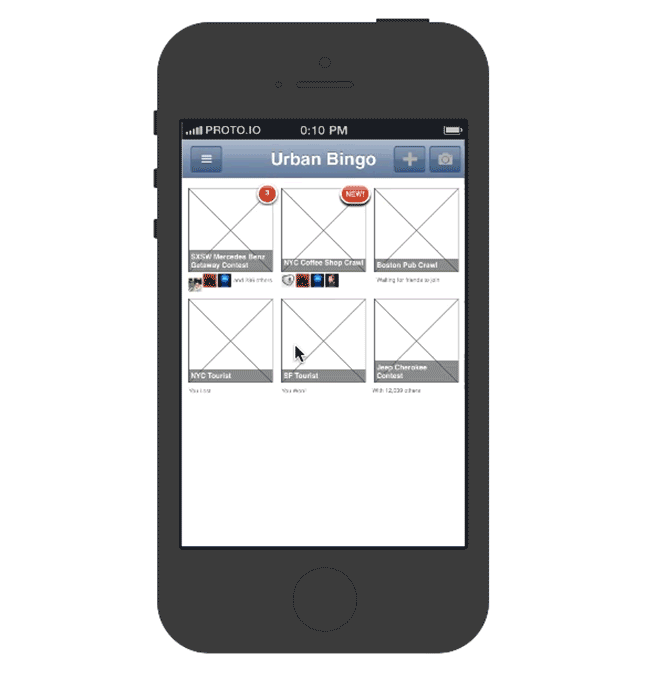 Activity Feed and Birds-Eye Views
Although the core gameplay happens by filling up your Bingo card-like board full of photos, we knew that users would also want to be able to see the general progression of the game. An activity feed shows each individual interaction, including when people were invited to the game, when they joined the game, when they added a photo to the game, and any in-game chatter. A bird's eye view of all of the other player's cards gives the user a sense of their current standing in the game and allows them to see everyone who is actively playing.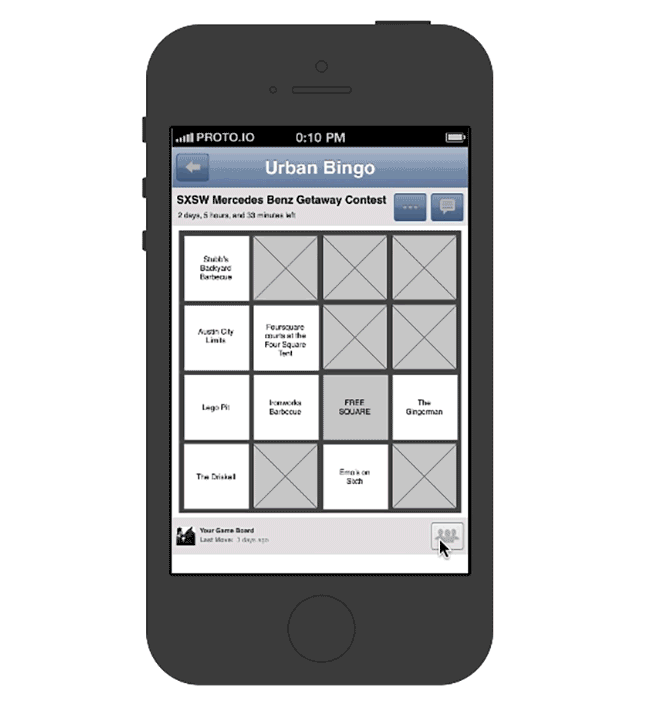 In-Game Commenting, Messaging, and Sharing
Friends like to talk to one another while they play, so we added the ability to send a "shout out" to the other participants in your game as well as add comments to any of their photos. We also figured, why should the photos you add to the game only be available within the game? So we let users share their photos via a mobile-optimized permalink page which they can share through their third party networks for added virality.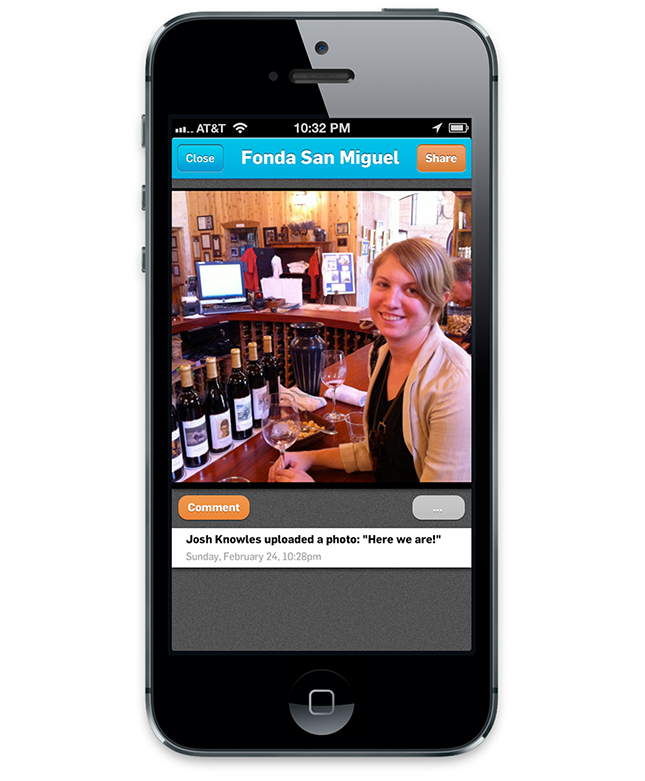 Storyboards, Feature Prioritization, Wireframes, Workflows, Clickable Prototype
March 2012